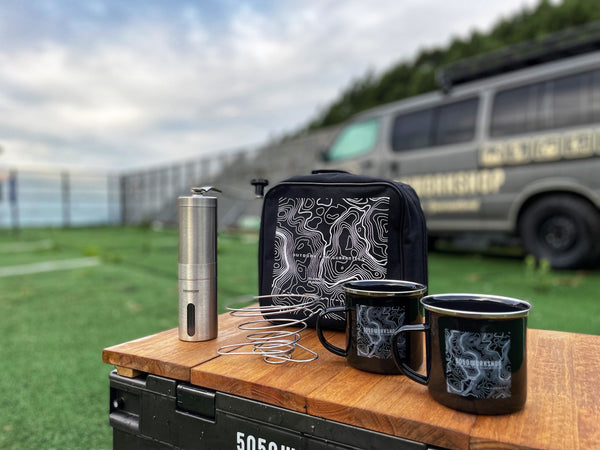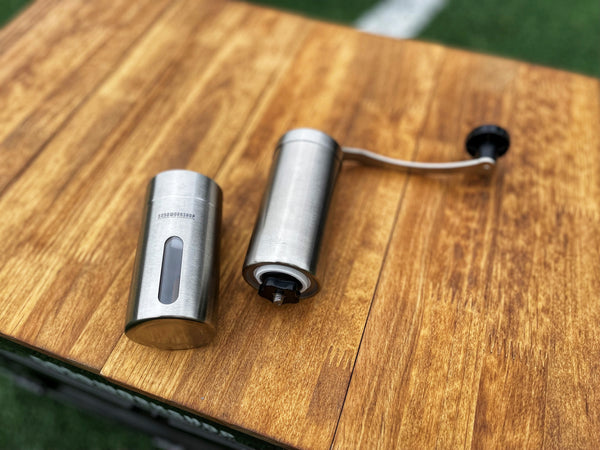 〜Coffee set to enjoy in nature〜

When enjoying outdoor camping, it is essential to relax and enjoy the aroma of coffee in nature.
Stop rushing and dare to take your time, and the scenery you see will lead you to a blissful time.
As long as you boil water, you can grind beans with a coffee mill and enjoy hand drip coffee anywhere.

The original pouch comes with 2 removable accessory cases, which is very convenient as it can also be used as a travel pouch when traveling.
It also comes with a hanging hook, so you can hang it anywhere, so you don't have to worry about it even when you don't have space to put it in the car or when camping outdoors.


The main body of the coffee mill is made of stainless steel and ceramic, so it can be washed and kept clean easily.
■ACCESSORIES

・Storage bag ・Storage pouch x 2 (removable)
・Mug x 2 ・Mill ・Dripper
■ COLORS
・BLACK
・OLIVE
■ SPECS
・Size: W22×D14×H22cm

・Weight: about 930g
・Material Case: Canvas / Mill: Stainless/Ceramic / Dripper: Stainless / Mug: Enamel

-------------------------------------------------- --------
▼ Click here for the 2WAY STAND sales page
▼ Click here for the STAND PLATE for 2WAY STAND sales page
▼ Click here for the MINIMA Light sales page
▼
MINI TRIPOD for 2WAY STAND
Click here for the sales page of