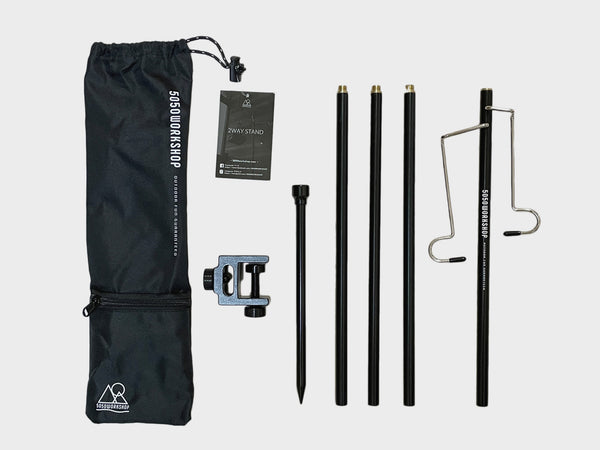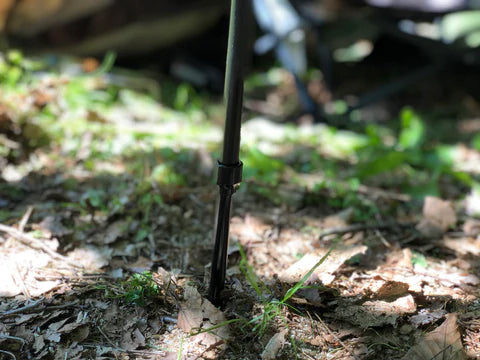 A 2-way stand that can be fixed to the table or fixed to the ground depending on the environment to be used.


2WAYSTAND is a lantern stand that can be used in various situations, such as fixing it by sandwiching it on a table or fixing it by driving a peg into the ground.
In addition to lanterns, you can also hang portable fans and other gear with the two hooks.
High-strength aluminum (A7075) is used for the poles, and high-strength forged pegs are used for the pegs.
When attaching to a table, etc., set the clamp on the table, connect the joint and hanger, insert it into the clamp, and tighten the screw to fix it. The maximum thickness of the table is 25mm. The part that holds the table of the clamp part has a cylindrical plate so that it can be fixed on the surface.
When fixing to the ground, drive the peg into the ground and connect the joint and the peg. Use the required number of joints according to your desired height.
One joint is about 31 cm, and three are included, so please use it according to your favorite height.
■ACCESSORIES
・ Hanger ・ Joint (3 pieces)
・Clamp
・Peg
・Storage bag
■ COLORS
・BLACK
■ SPECS
・Size: H390 x W100 x D60mm (when stored)
・Height: Maximum about 125cm (excluding pegs)
・Weight: about 500g
・Withstand load: Approximately 1 kg (hanger hook)
・Aluminum alloy/steel/polyester (storage bag)

-------------------------------------------------- --------
▼ Click here for the STAND PLATE for 2WAY STAND sales page
▼MINIMA Light・
Click here for MINIMALight REMOTE CONTROL sales page
▼ Click here for the STAND SERIES PARTS option parts sales page
▼
MINI TRIPOD for 2WAY STAND
Click here for the sales page of